What Makes Us One of the Best Online Doctor Consultation Sites
---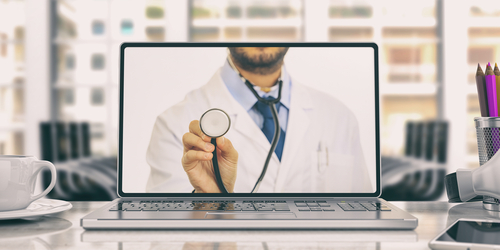 Life seems to keep getting busier and busier, and once the vortex of never-ending to-do lists sucks us in, it's hard to climb out. Then, you add your own sore throat and runny nose to the pile, and you're ready to pull your hair out. All you need is the icing on the cake: an irritable, sick child that requires the nonexistent fuel left in your tank. Now is when we step in. Instead of trekking out to a doctor (and waiting in line), you can see a doctor from the comfort of your own home. You'll quickly find that as one the best online doctor consultation sites, Online Doctor Visit offers convenient, affordable, and high-class medical care.
When you or someone in your family gets sick, whether it's a simple cold or a chronic illness, the medical bills can be intimidating. Though we can't eliminate all of the costs, we strive to provide reasonably-priced healthcare. For a $19.95 per month membership fee, everyone in your home can make as many online visits as necessary for $29.95 per visit. Not only does the monthly payment include consultations with a doctor, but for $75.00 per visit, you can also receive therapy sessions with a psychologist or counselor. You can also speak with a psychiatrist for $150.00 per visit with your membership. Our goal is to provide care at a fraction of the cost. Trips to the emergency room or a physician quickly rack up expenses, but with an Online Doctor Visit, you'll be saving money in no time!
Worrying about that peculiar spot on your arm that recently appeared or the abnormal pain you've been having in your abdomen can eat you alive. The last thing you want to do is make a visit to the doctor in between all of the responsibilities within your hectic schedule. Here's the good news: at any time of the day, on any day of the year, you can reach out to a physician to ask a question that you have or get advice on what to do. No matter where you find yourself, you can talk to a doctor on the phone, which is incredibly helpful if you're away from home.
Our physicians are highly-educated, experienced, compassionate, and care for every patient. Some of the most common diagnoses include allergies, UTIs, gout, bronchitis, various sprains, and depression, however, our doctors have diagnosed and treated a multitude of other ailments too. Using their experience and knowledge, our doctors try their best to efficiently diagnose and offer suggestions or medicine, if needed, so that you can get to feeling better quickly. If your problem can be diagnosed via the phone or computer, a physician will prescribe a medication, if needed. Our doctors are trained to diagnose as well as possible according to the symptoms that are described by the patient, so be sure that your descriptions and timeline of symptoms are as accurate as possible!
As the trend of online medical consultations and treatments continues to rise, we will step up to the plate to ensure high-quality and efficient health care for all of our patients. There is no doubt that you will feel confident in and be able to trust our doctors. Telemedicine is rapidly spreading around the globe, and our goal is to provide top care for our current patients and individuals that may have otherwise never received care. By utilizing the access to our doctors, you will spend less time traveling to an office and spend less money on insurance and doctor's visits, while still receiving exceptional care.